Semiconductor Integration : Memory, Logic, Sensor
Semiconductor Integration : Memory, Logic, Sensor
Empty tab. Edit page to add content here.
Plasma technology lecture is for basic understanding of plasma fundamental and its application in semiconductor and display fabrication process. Plasma technologies are applied in various fabrication process such as etching, ion implantation and dry cleaning, etc.
This covers from basic and principle for plasma to real application for engineer, researcher in industry and graduate student in university.
material transition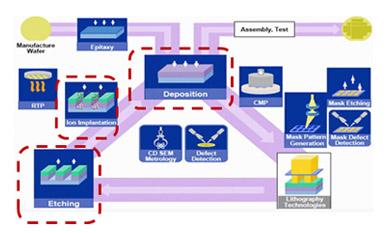 application of plasma technology
Class 1
Contents for plasma basic are related to electromagnetic characteristics for plasma, plasma structure, and it generation principle. This lecture is for graduate student in university and new engineer in industry.
Class 2
Plasma sources in DC, RF plasma (ICP, CCP) are introduced. Various
applications such as etch, ion implantation and cleaning are discussed.
Finally, plasma monitoring technology is explained, too.
플라즈마 공학은 반도체/디스플레이 제조 공정에 사용되는 공정 플라즈마에 대한 기초 강의로 플라즈마 이해와 플라즈마 응용 분야를 배운다. 플라즈마가 주로 응용되는 분야는 식각, 증착, 이온 주입, 세정 등 여러 공정에 응용되고 있다.
플라즈마를 이해하고자 하는 분과 이를 응용하는 분들을 위해 플라즈마 기초에서 응용까지 다루는 강의를 준비하였다.
물질의 상태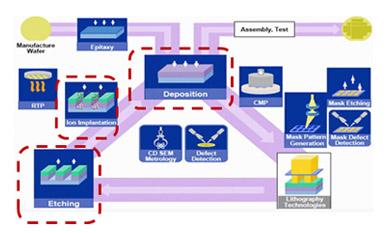 플라즈마 응용 분야
Class 1 : 플라즈마 기초
물질의 네번째 상태인 플라즈마의 전자기 특성과 플라즈마 구조 및 생성 원리 등을 다룬다.
Class 2 : 플라즈마 소스 및 응용
DC, RF 플라즈마(ICP, CCP) 등 플라즈마 소스를 다룬다. 또한, 플라즈마를 이용한 다양한 반도체 응용 분야에 대해서 강연한다.
DRAM and NAND flash memory devices are being actively developed from two-dimensional to three-dimensional structures for further integration and performance improvement. According to the ITRS, 7nm Logic, 14nm DRAM and 128-stage NAND flash memory devices will be launched in earnest starting in 2020.At this point, realization and commercialization of ASP (Atomic Scale Process) are becoming more important. To realize 3D structures such as 3D-NAND and 3D-FinFET for low power and large capacity, it is necessary to deeply understand ALD technology for atomic level process deposition.
This lecture aims to provide the understanding of the core technology of ALD deposition process which compromise excellent step coverage, thickness uniformity and composition uniformity in nanoscale device structure. In this lecture, contents were organized to develop basic knowledge of ALD to researchers and engineers of semiconductor devices, materials, and equipments' companies as well as undergraduate / graduate students who are passionate about semiconductor technologies.
Class 1
In Class 1, ALD process operation mechanism is explained and lecture will be conducted to reach the basic level of graduate student course and explore various functional thin film material (metal, insulator, semiconductor) deposition equipment and their fundamental operation principles.
Class 2
Class 2 provides more specialized lectures on ALD process such as ZrO2 dielectric thin film applied to DRAM capacitor, HfO2 dielectric layer applied to FinFET. The target audience of Class 2 is engineers of device, equipment and material company and research institute researchers.
Class 3
Ultra-thin film deposition by advanced ALD technology can overcome high shrinkage issue and scaling down in three-dimensional V-NAND and DRAM devices as the ALD technology has excellent step coverage. In Class 3, we aims to provide in-depth understanding on future trends in ALD technology development, which targets senior engineers and researchers in device, equipment and material companies.
DRAM 및 NAND flash 메모리 소자는 지속적인 집적도 증대 및 성능향상을 위하여 2차원에서 3차원 구조로 발전하고 있다. ITRS에 따르면 2020년부터 7nm급 Logic, 14nm DRAM, 128단 NAND등의 제품이 본격적으로 출시될 예정으로 이를 위한 10nm 이하 극초미세 원자수준공정 (ASP: Atomic Scale Process) 제조기술 상용화 및 원천기술 확보가 중요해지고 있다.
향후 저전력과 대용량을 위한 3D NAND, FinFET등 3차원 구조를 구현하기 위해서는 원자수준공정 증착이 가능한 ALD 기술에 대한 심층적인 이해가 필수적이다. 본 강의에서는 나노 스케일 트렌치 구조에 우수한 단차 피복성, 두께 균일성, 조성 균일성을 만족시키는 ALD 증착 공정의 핵심요소기술 이해를 증진시키고자 한다.
반도체 분야에 관심이 있거나, 이 분야 진출을 희망하는 학부/대학원생은 물론이고 반도체 소자, 소재, 장비업체 전문연구원 및 엔지니어에게 ALD 기초 지식 및 전문 공정 지식을 함양할 수 있도록 강의내용을 구성하였다.
Class 1
ALD 공정 기초적 증착 기구를 설명하고, 다양한 기능성 박막재료 (금속, 절연체, 반도체) 증착 장비 및 증착 원리에 대한 교육을 통하여 유관 대학원과정 및 기업체 입문 수준에 도달할 수 있도록 강의를 진행한다.
Class 2
DRAM Capacitor 공정에 적용하는 ALD ZrO2 유전 박막, FinFET 소자에 적용되는 ALD HfO2 유전 박막 요구사항과 이를 달성하기 위한 공정 제어 및 물성 해석에 대한 전문적 지식 함양을 목적으로 하며, 소자, 장비 및 소재 업체의 엔지니어 및 연구소 연구원을 대상으로 강의한다.
Class 3
3차원 V-NAND, DRAM 소자에서 진행되는 지속적인 고단화, 스케일링 다운에 대응 가능한 매우 얇고, 단차피복성이 우수한 ALD 증착 기술 이슈 및 향후 기술 개발 방향 추이에 대한 심도 있는 전문지식을 함양을 목표로 하며, 소자, 장비 및 소재업체의 전문 연구원/엔지니어를 대상으로 강의 한다.
Semiconductor Technology for AI
Empty tab. Edit page to add content here.